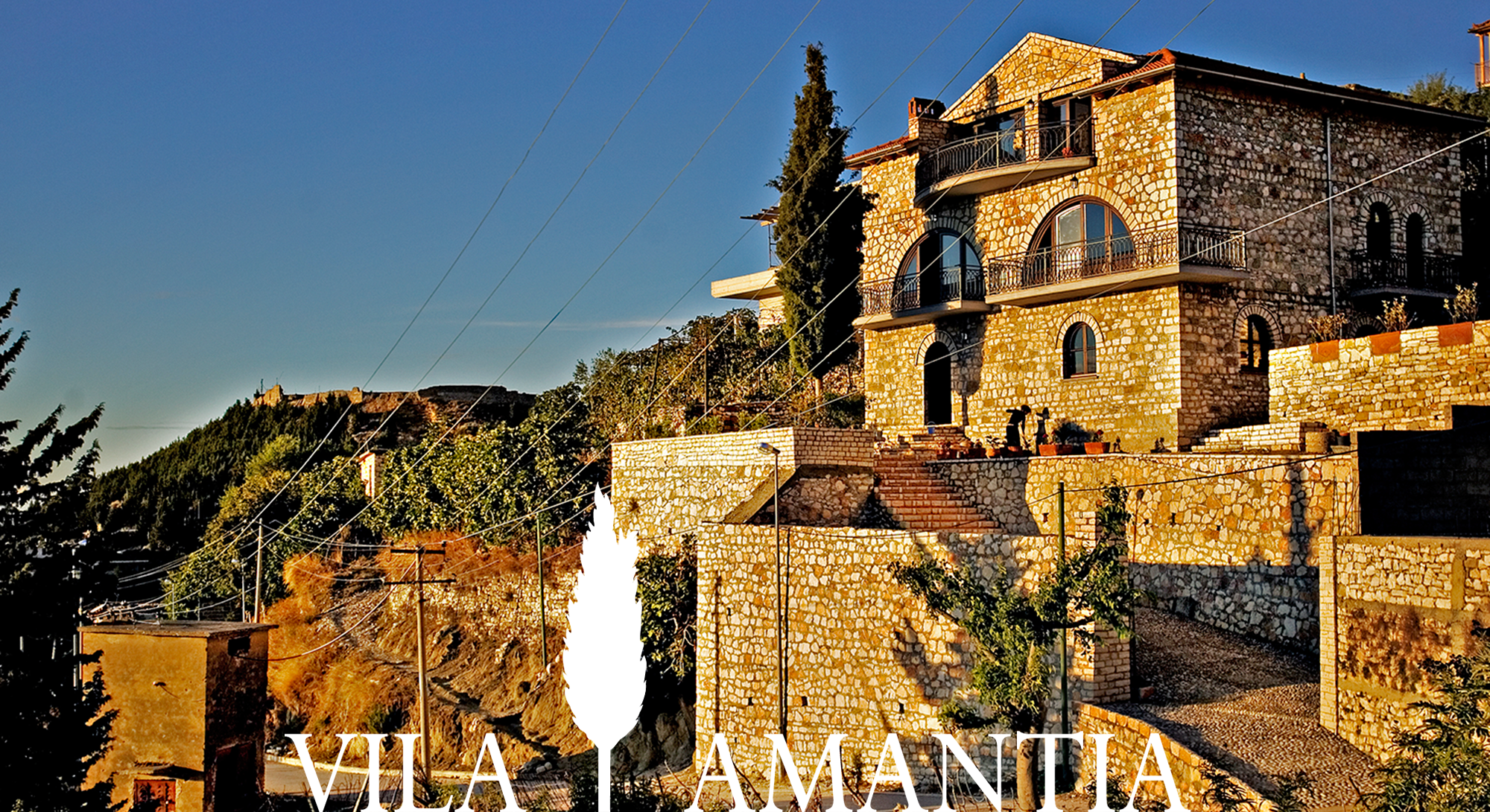 SPEND YOUR NEXT HOLIDAY IN ALBANIA
– IN VILA AMANTIA
Vila Amantia is a Danish owned holiday villa on the Albanian Riviera in South Albania. The villa is situated in the historical village of Kanina in the mountains surrounding the Bay of Vlora.
Both Vlora and Kanina are ancient settlements, founded in the 4th century BC, and the area has seen innumerable encounters between East and West. On November 28, 1912 Vlora was the city where Albania's independence from Ottoman rule was proclaimed by Ismail Qemal, the first prime minister of Albania – born in Kanina.
Vila (Albanian for villa) Amantia is named after the ancient Illyrian city of Amantia about 20 km south of Kanina. The village of Kanina is thought to have been Amantia's important advanced bastion towards the sea in antiquity.
For many years Kanina, protected by the ancient Kanina castle, due to its cooler and cleaner air, was the preferred summer refuge for the well to do people from Vlora.
THE ALBANIAN RIVIERA
The Albanian Riviera – with more than 2000 hours of sunshine a year – starts at Vlora, where the Ionian Sea meets the Adriatic Sea in the Strait of Otranto.
Albania is a beautiful country and far better than its reputation. There are still many problems, but the Albanians work hard to reach European standards and are determined to become members of EU.
If you want to experience a country in a process of change where tradition and modernity meet you have come to the right place.
THE VILLA
Vila Amantia is owned by Albanian Honorary Consul in Copenhagen Hans-Georg Nielsen LL.M and managed together with his daughter Hanne Lashi.
Vila Amantia was finished in 2008 and is built in traditional Albanian style with solid walls made of natural stone from the local quarry and a low-pitched roof of red tile.
The villa is perfect for families and/or friends travelling together, because it accommodates up to 12 persons in the 4 flats + 1 room and has a large shared kitchen.
GROUND FLOOR
Here you find the big shared kitchen with a dining table large enough for 8-10 persons. The ground floor also has a double room (we call it the South room) with a shower, the toilet close by and a private door to the garden.
The "service room" has a laundry machine.
1ST FLOOR
2 flats each about 50 m2 with a great sea view with bedroom, bathroom, living room and balcony. In these flats the sofa in the living room can be turned into a bed allowing space for 3 – 4 persons per flat.
2ND FLOOR
2 flats with a great sea view, each about 45 m2 with bedroom (2 persons), bathroom, living room and a shared balcony.
OUTDOOR FACILITIES
A shared garden with sea view, laid out in three terraces. In the garden there is an almond tree, a palm tree a valnut tree and olive trees.
The shared patio has a sea view and the big cypress tree, a yard with parking space for 1 – 2 cars, and a private parking space for 2 – 3 cars close by on the other side of the road.
INTERNET
Vila Amantia offers fast and free internet.
PRICES IN VILA AMANTIA
Prices are for 2 persons per flat per week. (6 nights)
First floor flats 475 € + cleaning fee
Second floor flats 435 € + cleaning fee
The South room 345 € + cleaning fee
Single bed-night 80 € + cleaning fee (2 nights minimum)
Extra sofa bed: (only possible on the first floor) 20 € per bed-night
On departure 3500 Lek = 30 € per flat must be paid for cleaning.
A discount will be allowed for longer stays and by renting more than one flat. All prices are subject to revision.
VARIOUS SERVICES TO BE PAID FOR LOCALLY:
Collection at the Tirana airport (max. 4 pers.): 110 €
Return to the airport (max. 4 persons): 110 €
Guide per day (9:00 AM -21:00 PM) with car is included, but guests pay for gaz: 125 €
TERMS OF THE LEASE
The lease agreement concerns the renting of flat(s) for 2 persons mentioned in the invoice.

On arrival the guests will receive keys for the gate, the front door and the flat.

Clean towels and bed-linen will be provided upon arrival

We recommend that guests study the operating instructions for the air condition of the flat.

Owing to the Albanian electricity supply, short periods of power cut may occur.

The water supply of the village is not quite regular. 2 water tanks are securing the water supply of the villa. Guests are asked to focus on their use of water.
HOW AND WHEN TO PAY FOR YOUR STAY IN VILA AMANTIA
Vila Amantia will send you an invoice immediately to confirm your booking. If you book your stay more than 30 days before your arrival we must receive your payment at least 30 days before the time of your arrival.
If you book your stay between 30 – 14 days before arrival you must (have to) pay the whole amount 7 days after you received the invoice at the latest.
If you book your stay 14 days or less before arrival the whole amount must be paid 48 hours after you received the invoice at the latest.
THE DEPOSIT
A deposit, equivalent to 30 per cent of the amount agreed upon, must be paid 48 hours after you received the invoice at the latest. The deposit covers non-observance of the terms of payment as well as any damages you may have caused during your stay. Remember to check your own cancellation insurance.
Skjern Bank, Strandvejen 143, 2900 Hellerup, Denmark
Reg. No 7780 / Account No 0001174994
IBAN: DK2177800001174994
Swift/BIC: SKJBDK22
BKT Bank, Vlorë, Albania
Acc. No: 4080 75272 CLIDFEURAA
IBAN: AL87 2052 6087 0752 72CL IDCF EURA
Swift/BIC: NCBAALTX
HOW DO I GET TO ALBANIA?
You can choose to travel either by car or by air. There is still no direct air link between Copenhagen and Tirana but Air Serbia, Austrian Air and Lufthansa offer frequent flights with short stopovers in respectively Beograd, Vienna and Munich/Frankfurt.
HOW IS THE POLITICAL SITUATION IN ALBANIA?
Albania is a young democracy which has recently become a member of NATO and is now – as a candidate country – working hard at becoming a member of EU. Membership negotiations as expected started in July 2022.
IS IT DANGEROUS TO BE IN ALBANIA?
No, Albania is a quite peaceful country, and the Albanians are helpful and hospitable people.
DO THE ALBANIANS SPEAK ENGLISH?
Yes, many of the younger Albanians speak English, e.g. in restaurants and cafés. Moreover, many Albanians also speak Italian.
WHAT ABOUT THE ALBANIAN PRICE LEVEL AND MONEY?
The Albanian unit of currency is called Lek. One Euro is about 114 Lek.
There are cash dispensers in all towns.
The price level is low. A taxi from the airport to Vila Amantia costs about 110 €. The price of petrol is about the same as in the EU.
HOW ARE THE ROADS AND THE TRAFFIC IN ALBANIA?
Road conditions have been much improved during the last 10 years. There is a fine motorway almost all the way from Tirana to Vlore, but you will still find road sections that are bad. Some Albanians do not drive quite like Western Europeans, so it is best to have a reasonably practised driver behind the wheel.
CAN YOU DRINK TAP WATER IN ALBANIA AND IN VILA AMANTIA?
No. It is not recommended, but bottled water is not expensive and can be bought in all supermarkets and small shops.
IS THERE CORRUPTION IN ALBANIA?
Yes, there is, but as a tourist you will not notice it.
WHAT IS THE RELIGION IN ALBANIA?
Albanians have a very relaxed attitude to religion. 65 per cent are said to be Muslims, 25 per cent are orthodox Christians and 10 per cent are Catholics, but they live (and are buried) peacefully side by side.
IS A VISA NECESSARY TO GET INTO ALBANIA AND HOW ABOUT INSURANCE?
No. You don't need a visa. Just bring your passport, yours cars green card and it is always a good idea to check ones travel insurance.
This place made me feel like a princess! It is an absolute fairy tale! Gorgeous views and panorama…. Close to Vlore center and a short drive to the sea. I will be back soon!
The splendor of this place, the fantastic view, the peaceful surroundings and the tasteful and comfortable arrangements in the house – all this was very good quality. We can warmly recommend this experience to anybody going to Albania on vacation.
So dreamy! Yes- it is as good as it looks. Everything you need is here. Great view, well equipped kitchen for cooking to eat in the beautiful garden. Safe area in a small mountain village, and a 15 minute mountain drive to the city. It's hard to believe a place like this exists! Really just perfect experience to anybody going to Albania on vacation.
Very beautiful and calm location over Vlore in nicely decorated villa. The location is perfect to relax, hike or escape the rush of albanian cities. The huge kitchen and a terrace with an amazing view were our highlights. Definitely worth to stay more than just a couple of days..
CONTACT US
Feel free to contact us if you have questions about our villa or Albania as a travel destination.
KONTAKT@AMANTIA.DK / tlf +45 20485063 / +45 26183902 (Hanne)

Rruga Kaninë 33, Kaninë, Vlora, Albania // Marievej 8, 2900 Hellerup, Denmark